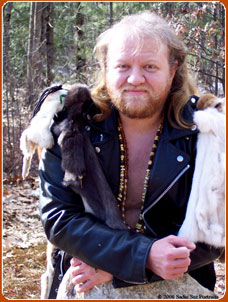 Welcome to my Website!
I'm Raven Kaldera - author, shaman, educator, activist, priest, and many other things. I count myself a part of many different demographics and much of my work is building bridges between them. While I have quite a few websites, this is my hub and home from where you can find everything else that I do. Welcome and enter in a spirit of hospitality and peace.
Do you want to be emailed when I will be in your area?
If you want to arrange a private session with me, or have me give a class, but cannot arrange travel yourself, sign up to be notifed of when I will be in your area. I am generally happy to travel anywhere so long as my reasonable travel expenses are covered.
PLEASE NOTE:
I generally see clients in my office in Fitchburg, MA. There are
very few services
I can provide online or via phone. I do nearly all of my work in person. My office is about one mile from a regional train station. I cannot provide or arrange transportation or housing for you.
Upcoming Events
Make a Contribution
If you would like to support my work, please consider making a contribution.